Increase Customer Trust & Credibility with the 'Trust Badge'
Secure Privacy adds a small widget to websites from where visitors can change their permissions and be in charge of their own data.
What is a trust badge?
A trust badge is an add-on on the cookie banner of a website that shows visitors you care about their privacy. Secure Privacy can add this widget on your site. When a user clicks on it, the privacy banner will be displayed. There they will see what plugins you use, what data you collect, and additional information that you can customize. If a visitor doesn't want their data tracked, they will have the option to opt-out.
Website owners use trust badges as a tool to be transparent, appear trustworthy, and build a genuine relationship with their customers.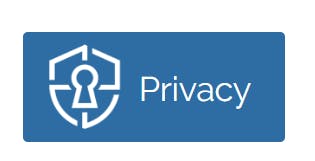 Do I need a trust badge?
The trust badge is an add-on of the cookie banner, which is legally required for visitors from the EU. Trust badges are not legally required themselves, but it is highly recommendable to install one on your website because it shows that you are transparent and have nothing to hide.
Internet users are aware of privacy threats now more than ever. Knowing their data may be used in many different ways, everyone is cautious while surfing the internet. Having a trust badge on your website will put them at ease.
The GDPR aims for better transparency, accountability about privacy rights, and lawful data collection and processing. The trust badge on your website will communicate that you care about these principles.
If users still doubt you after seeing the badge, only one click will bring them a detailed preview of what you collect and do with the data to resolve all their dilemmas. Moreover, they can opt-out the consent right away, as easy as they can opt-in.
Think of the trust badge as a tool for transparency. It is not legally required, but by installing it, you go a step further. It will help you bridge the trust gap with new visitors and customers, and make you stand out of the competition.
How can I get a trust badge on my website?
The trust badge will be automatically installed on your website as soon as you create an account with Secure Privacy. If you want, you can exclude the badge from appearing on the website or only on specific pages.
Also, you'll have an option to customize its design to fit your brand.
Can I change the text inside the Trust Badge?
Yes. Inside the admin dashboard, go to Banners > Trust Badge > Edit Text.