GDPR, CCPA, LGPD & Google Consent Mode
Data Privacy & Cookie Consent Compliance
Secure Privacy automates cookie consent, visitor preferences, privacy policy & cookie declaration management across international data privacy laws. It saves you time and money and assists you to comply with data privacy laws.
TRUSTED BY:










Experienced Quality Assurance Specialist
GDPR and CCPA Website Compliance with Secure Privacy
With Secure Privacy, we have managed to streamline our data protection compliance obligations in one place. With the complete GDPR and CCPA solutions, we are now compliant with the EU and California's cookie laws, and we are looking forward to complying with Brazil's LGPD. All in one place!

Data Analytics | Business Intelligence
This is why we use Secure Privacy
When we looked around for a solution, Secure Privacy was the most affordable platform available compared to its level of functionality and efficiency in managing cookie consent across different domains for GDPR, CCPA, and LGPD compliance.

IAB 2.0 Compliance with Secure Privacy
Since valid GDPR cookie consent is a crucial requirement in the adtech industry, Secure Privacy helps us block cookies and trackers with cookie consent banners in accordance with GDPR, CCPA & LGPD

Manager at Oracle NetSuite
The Business-Focused Tool for Data Protection Compliance
Secure Privacy has helped us stay on top of our GDPR and CCPA cookie consent obligations since the universal preference center gives our users an intuitive interface to manage their preferences.

Technology Enabler. Agile Practitioner. Independent Consultant.
Secure Privacy for GDPR and CCPA Compliance Review
Setting up the solution was unexpectedly easy, complemented with a simple DIY manual.

CEO & Founder at MamaOrgana
Let Secure Privacy handle your data privacy compliance need
It offers complete solutions for both GDPR and CCPA compliance requirements that integrated easily with our WordPress website.
Get a Fast, Secure & Compliant Solution
for Cookie Consent Management
Our consent platform is the only unified solution that meets the requirements of GDPR, CCPA, LGPD and other data privacy laws.
Easy to integrate
with the Solutions You Love
Secure Privacy can easily be integrated with all major CMS systems and internet platforms.
SecurePrivacy is a simple, powerful software that helps you scan websites & document cookie consent easily
Secure Privacy provides a complete solution for all your website and cookie consent needs. It offers a simple, easy-to-use interface that allows you to manage and automate your cookies compliance.
Trusted by Leading Brands
Sign up for our newsletter
and get the latest news on data privacy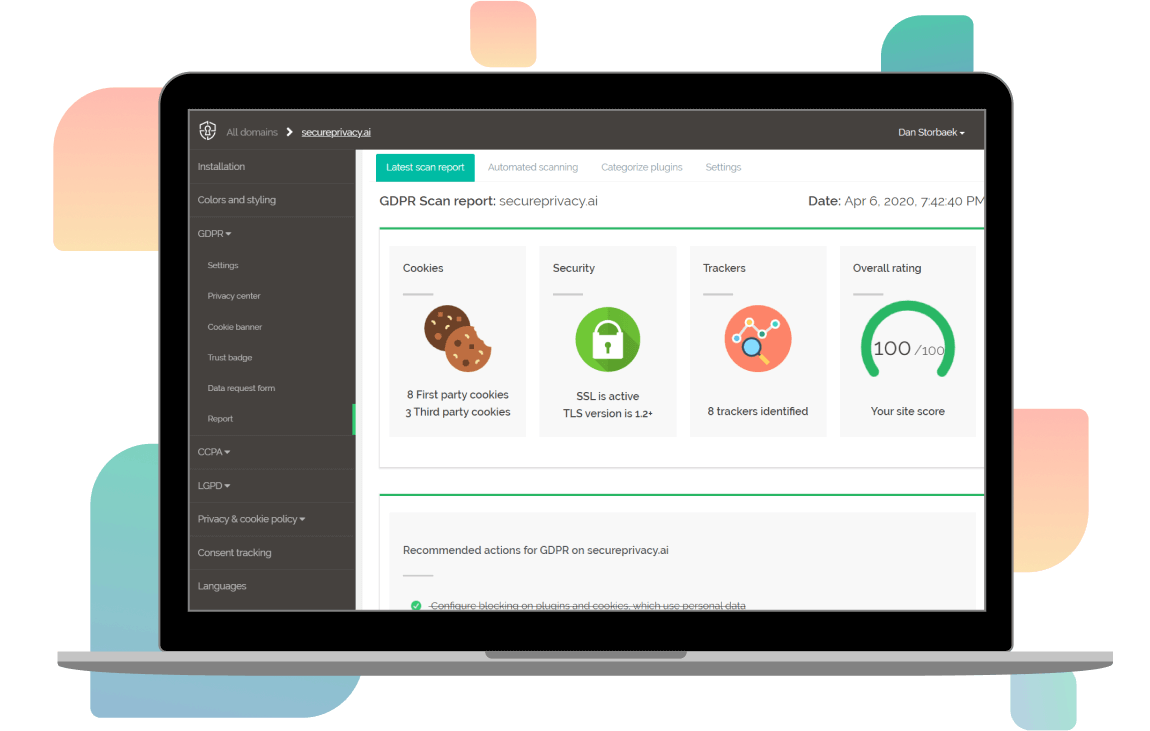 Agencies / Affiliates
Yes! We also offer Agency / Affiliate support. And it's easy! Visit our partner page and learn more!
Learn more