All You Need to Know about GDPR Fines
On 25th May last year, the European Union enforced a new set of data privacy laws commonly referred to as the General Data Protection Regulation (GDPR).
On 25th May last year, the European Union enforced a new set of data privacy laws commonly referred to as the General Data Protection Regulation (GDPR). GDPR affects any company that processes data obtained from EU residents regardless of where the firm in question is located. 
The implementation of this law means that any individual or organization that fails to adhere to set requirements will incur severe penalties. Therefore, this article provides a comprehensive overview of what you need to know about GDPR penalties.
GDPR Overview
The General Data Protection Law is a set of laws enacted to streamline information protection practices for any individual or organization handling data from EU citizens. Additionally, this law empowers EU residents by affording them increased authority over their data that is collected by businesses.
Mainly, GDPR was adopted for two primary reasons;
To give users more authority over their personal information
Increase transparency in the data collection process

Why do you need to comply with GDPR?
The compelling reason why you need to comply with GDPR is the issue of trust. Essentially, for any business transaction to take place, the core requirement is the level of trust between the parties involved.
GDPR was implemented to make sure that consumers can trust companies to safeguard their critical data, uphold transparency about what they do with this information, and, in case of a safety breach, inform the customers in a timely way.
How much can you be fined for GDPR Violations?
GDPR violations are penalized on two distinct levels. Primarily, low-level abuses can attract a fine of up to 10 million Euros or 2% of the violator's yearly revenue, depending on which is higher. It is important to note that the fines are applied to your company's income before expenditure.
On the other hand, serious violations can result in penalties of up to 20 million Euros or 4% of the violator's global yearly income, whichever is higher. It is also important to note that an individual can be fined for GDPR abuses if they utilize other parties' personal information for anything apart from personal reasons.
How are GDPR Penalties Determined?
In case of a violation, Article 83 of this regulation defines the criteria used to determine the fines to be applied before evaluating the penalties to violators. The key questions take into consideration include:
Did the violator comply with the requirements for data protection accreditation?
Was the offender cooperative with authorities probing the data breach?
What kind of personal information was retrieved due to the breach?
Does the violator have a record of similar data breaches?
Was the data breach an outcome of the offender's carelessness or deliberate action?
What measures did the offender implement to alleviate the damage?
What is the nature and degree of harm resulting from the data breach?
When did the violator alert the oversight agencies and the affected entities about the data breach?
What precautionary actions did the offender implement before the data breach?
What other extenuating factors contributed to the data breach?
What is the True Effect of GDPR Penalties?
The impact that a substantial GDPR fine can have on a company's revenue margins can be overwhelming, even for some of the world's largest firms. In fact, for a company found to be responsible for the gravest violations, the impact of a penalty adding up to 4% of yearly revenue can flip its profit margins upside down in a flash. Essentially, the bigger the revenue a company brings in, the greater the risk, and the higher the penalties.
To illustrate this point, we can consider the case of the data breach involving Hilton Hotels in 2015. The company incurred a fine of $700,000 following the conclusion of investigations by the New York Attorney General's office in 2017 for this breach that affected 350,000 clients. This fine translated to a penalty of about $2 for every record. However, it is essential to note that this sanction came before GDPR was implemented. If the same breach was reported today, which means it would be subject to GDPR requirements, the penalty could be as high as $420 million.
While the possibility of facing costly penalties for non-compliance with such stringent obligations raises fear among corporate executives, it is crucial to have a positive outlook on the implications of this law. Businesses should view GDPR as an opportunity to beef up their data safety measures as a way to protect themselves and their clients.
With Secure Privacy, you can ensure that your company and website are compliant with this law since they offer solutions that simplify cookie consent, cookie management, and cookie control. Additionally, they are easy-to-use and work seamlessly with any website allowing your business to earn higher levels of trust from customers, stockholders, and the market in general. Request a demo or try these solutions for free today and avoid possible fines for GDPR non-compliance.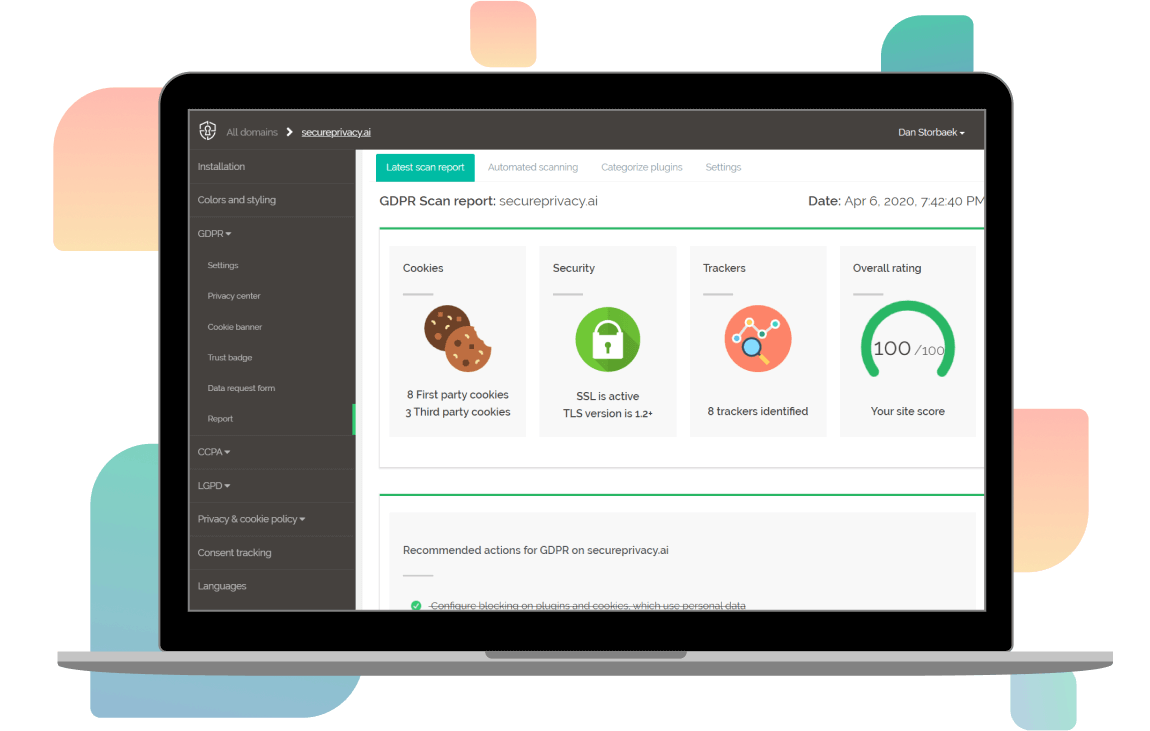 Want to try
Secure Privacy?
Get your free cookie banner up and running today!
Sign up to our newsletter
and get the latest news on data privacy