Cookie Banner Solution
Secure Privacy offers you a cookie consent management tool and website banners to comply with the EU cookie law and the GDPR cookie consent requirements. You can generate beautiful cookie banners, document consent, and enjoy peace of mind with the leading cookie banner solution provided to you by Secure Privacy.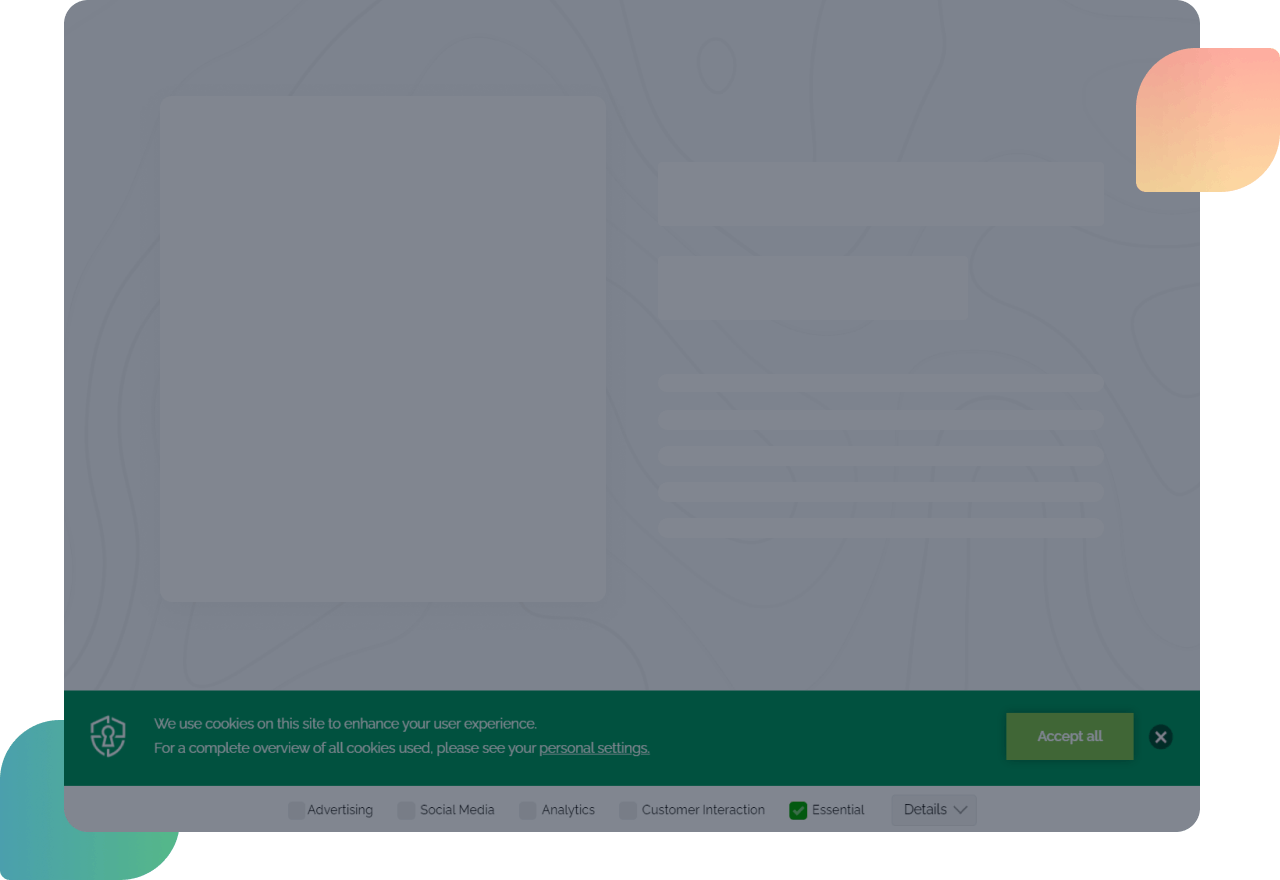 Why have a Cookie Banner?
Awesome customers running Secure Privacy Cookie Consent Banners.
Learn More About Cookie Banners Here
Why have a Cookie Banner?
A Cookie Banner is a tool used to comply with the EU cookie law and the GDPR cookie consent requirements. Organizations have to comply with the requirements of the EU cookie law as well as the requirements for consent provided under the GDPR. Failing to comply with these laws may lead to hefty fines.
Secure Privacy's customers use the Secure Privacy Cookie Consent Banners to comply with the EU cookie law and the GDPR cookie consent requirements. The rules of the EU cookie laws are embedded in our cookie banner solution, making GDPR and ePrivacy compliance effortless for businesses that need to request and obtain cookie consent from users.
A cookie banner is a tool for compliance with the EU cookie laws and other data protection laws worldwide. The EU cookie laws, including the GDPR and the ePrivacy Directive, require businesses to ask and obtain explicit users' consent before the use of cookies. Businesses make these requests to users by a GDPR cookie banner.
How Does A Cookie Banner Work?
When a visitor lands on a website, a pop-up appears somewhere on the screen. This pop-up is the actual cookie banner. It informs the visitor that the website uses cookies and asks for cookie consent. 
However, most sites set cookies to operate before obtaining consent. They start collecting user data before permission is granted, risking getting fined as well as losing credibility as a company. Their cookie consent banners serve little to no purpose.
Do I Need A Cookie Banner?
You need a cookie banner if you collect data from European Union visitors. In general, only EU laws require cookies banners, which means you have a duty to show them only to your EU visitors. However, since you can't control who visits your website and you most likely use tracking technologies (Google Analytics, Facebook Pixel, HubSpot, plugins, social media buttons), it is wise to have a cookie banner to protect yourself.
The EU first regulated this matter with the ePrivacy Directive in 2002, requiring website owners to get consent from their visitors. This was when we started seeing cookie banners all over the internet.
The GDPR (General Data Privacy Regulation), which came into effect in May 2018, also requires cookie banners but imposes heavier fines for those who do not comply. GDPR compliant cookie consent has to comply with consent requirements set forth within the GDPR.  
You can scan your website for GDPR and ePrivacy compliance with Secure Privacy.

What is EU Cookie Banner?
EU Cookie Banner refers to the website banners which inform visitors of the cookie usage, allow to accept or reject the use of cookies, and document the consent for proving compliance with the relevant laws in the EU. EU Cookie Banner must be compliant with the consent requirements of the GDPR and shall fulfill the requirements of the EU cookie law.  
What is GDPR Cookie Consent?
GDPR cookie consent implies the consent requirements for collecting personal data through online identifiers such as cookies and trackers. GDPR sets out four conditions in order for consent to be valid. Accordingly, consent has to be freely given, specific, informed, and unambiguous. Further, GDPR provides additional consent requirements which are proof of consent and withdrawal of consent.
What is GDPR Cookie Banner?
GDPR cookie banner refers to the GDPR compliant cookie consent banner which must have certain features. The GDPR cookie banner should give users a choice to choose whether to opt-in for cookie usage and be user-friendly. GDPR compliant cookie banner must:
Not have any pre-ticked boxes or "on" sliders for non-essential cookies. GDPR Recital 32 explicitly states that pre-ticked boxes should not constitute consent. It was also included in the EDPB guidelines on consent. Further, in 2019, the European Union's Court of Justice (CJEU) ruled that using pre-ticked consent boxes for cookie placement is invalid (The Planet49 Case). 
In this case, the court decided that Planet49 violated the GDPR just because they had the checkboxes for giving consent for several specific purposes pre-ticked. It was a clear signal for businesses worldwide that they should let users take affirmative action in checking the boxes when giving consent. 
Be a confirmation-only cookie banner rather than a notice-only cookie banner. Some cookie banners only indicate information that the website uses cookies and does not require users' prior approval before setting cookies on the devices of users. This is a gross violation of the EU cookie law and the GDPR. A confirmation must be obtained from users of the website before setting any cookies unless the cookies are strictly necessary cookies, also known as essential cookies. 
Not only display "Accept" button and should have an option to reject cookies. Some cookie banners display only the "accept" button and do not provide an option to refuse the use of cookies by the website. This is likely a violation of the requirements for consent under the GDPR as the consent cannot be considered to have been given freely. Additionally, some DPAs (i.e. UK, France, Germany, Ireland) require websites to have an option to reject the use of cookies which is of the same weight in terms of design, font size, and font style compared to the "Accept" button. Furthermore, the EU cookie law also requires websites to allow users an option to refuse the use of cookies. 
In other cases, it is enough to provide an option for managing cookies besides the Accept button. From there, users can choose which cookies to accept and which to refuse. Remember that the checkboxes must not be pre-ticked.
Have a feature to be able to give granular consent for different types of processing. GDPR recital 32 states that when the processing has multiple purposes, consent should be given for all of them. Accordingly, in order to be in compliance with the GDPR cookie consent requirements, a website banner must provide a feature for giving separate consent for each category of processing. A general consent for all purposes is not valid. This was also set forth within the EDPB guidelines on consent. 
Contain a link to the cookie policy or provide information on the data collection in another way. A GDPR compliant cookie banner should ideally have a link to the cookie policy page on the website. GDPR requires that consent has to be, inter alia, informed which implies that the user must know what they are agreeing to. Besides, EU cookie law requires that users must be given clear and comprehensive information about the purposes of the processing. These could be achieved by having a clear and comprehensive cookie policy on the website. Since it is not possible to display all this information in a cookie banner, this is ideally done by providing a link to the cookie policy in order for users to read and understand before giving their consent.
Can Cookie Banners Appear Only To EU Visitors?
Yes, they can. Secure Privacy allows you to target only EU visitors with certain cookie banners. You can adjust it by changing the settings as you can see on the image below

Will Your Cookie Banners Prevent Cookies From Being Injected In A Computer Prior To Getting Consent?
Yes, you can easily adjust our Cookie Banners to the GDPR requirements. You can use our Prior Consent solution for blocking cookies and tracking technologies. It will prevent you from collecting data before getting valid consent, keeping you compliant with the laws.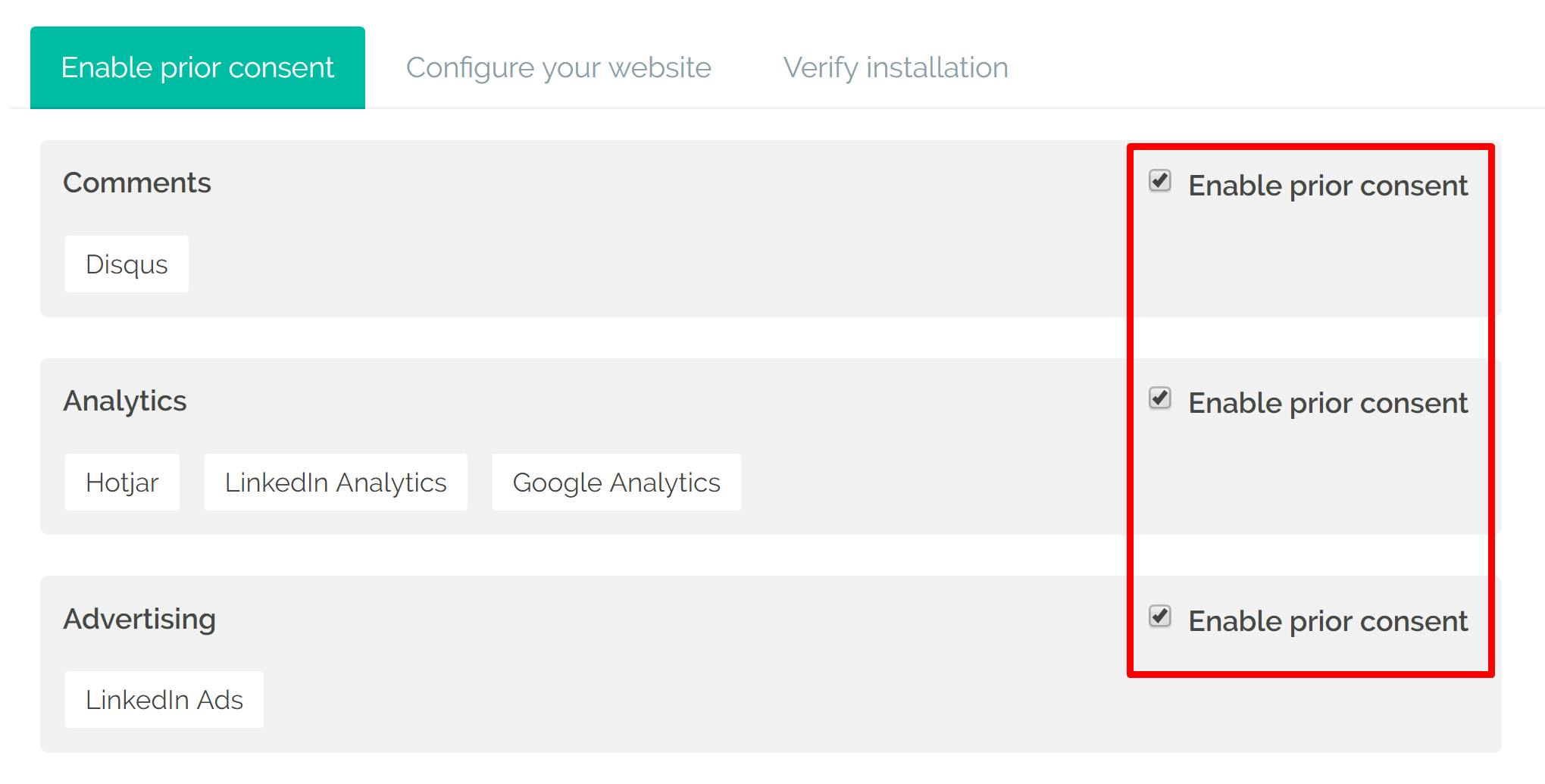 Can I Customize The Design Of Our Cookie Banners?
Yes, you can. You have absolute control over the cookie banner designs. We offer great templates, but you can easily make changes using CSS. You have full control over the look of the cookie banners.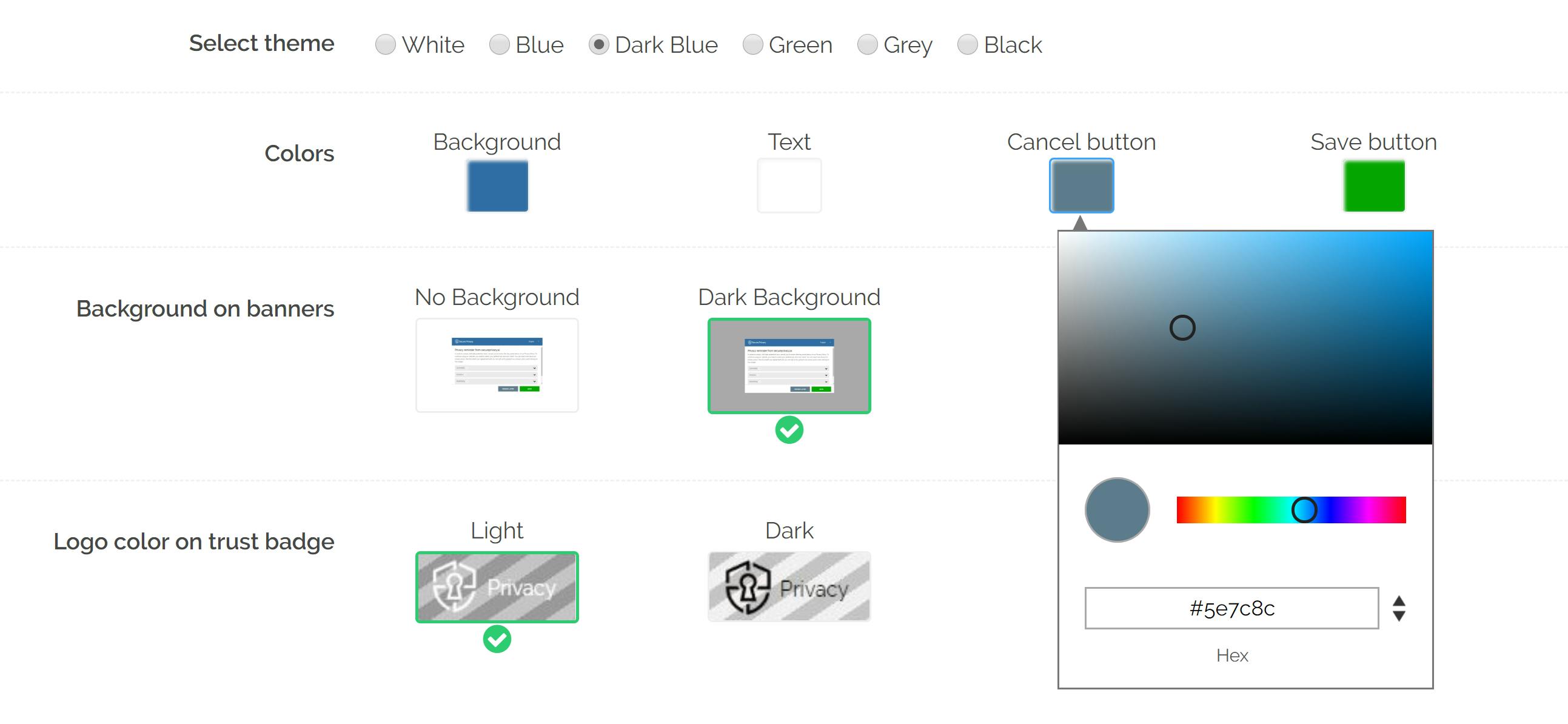 Can I Manage Cookie Consent?
When a Cookie Banner shows on a website and the visitor consents to cookies, you must document their consent and store it in a safe place. The process of documenting and keeping users' consent is called Cookie Consent Management.
Below are two images illustrating how consents are documented (both accepts and declines) per transaction and with a visual overview.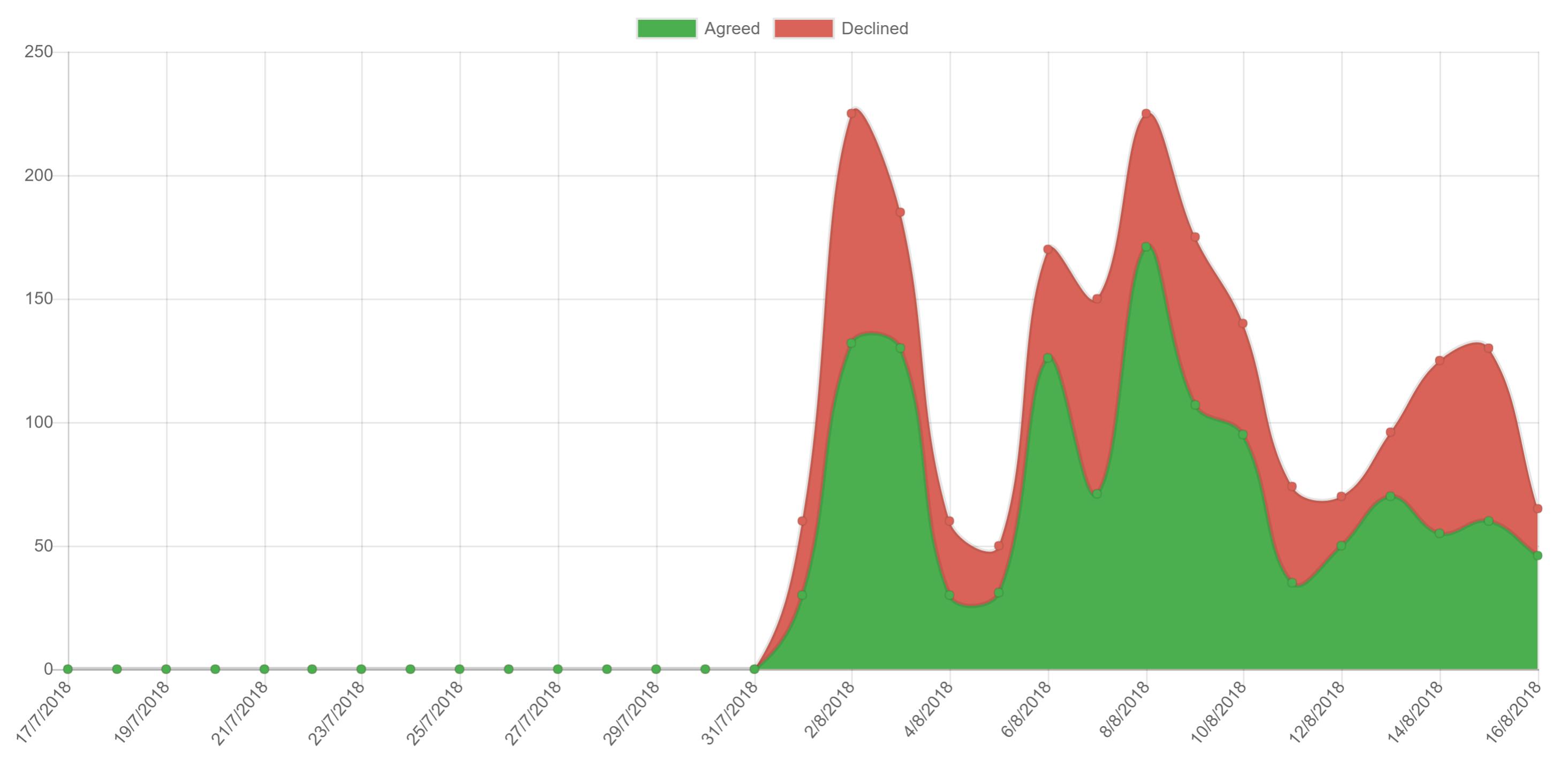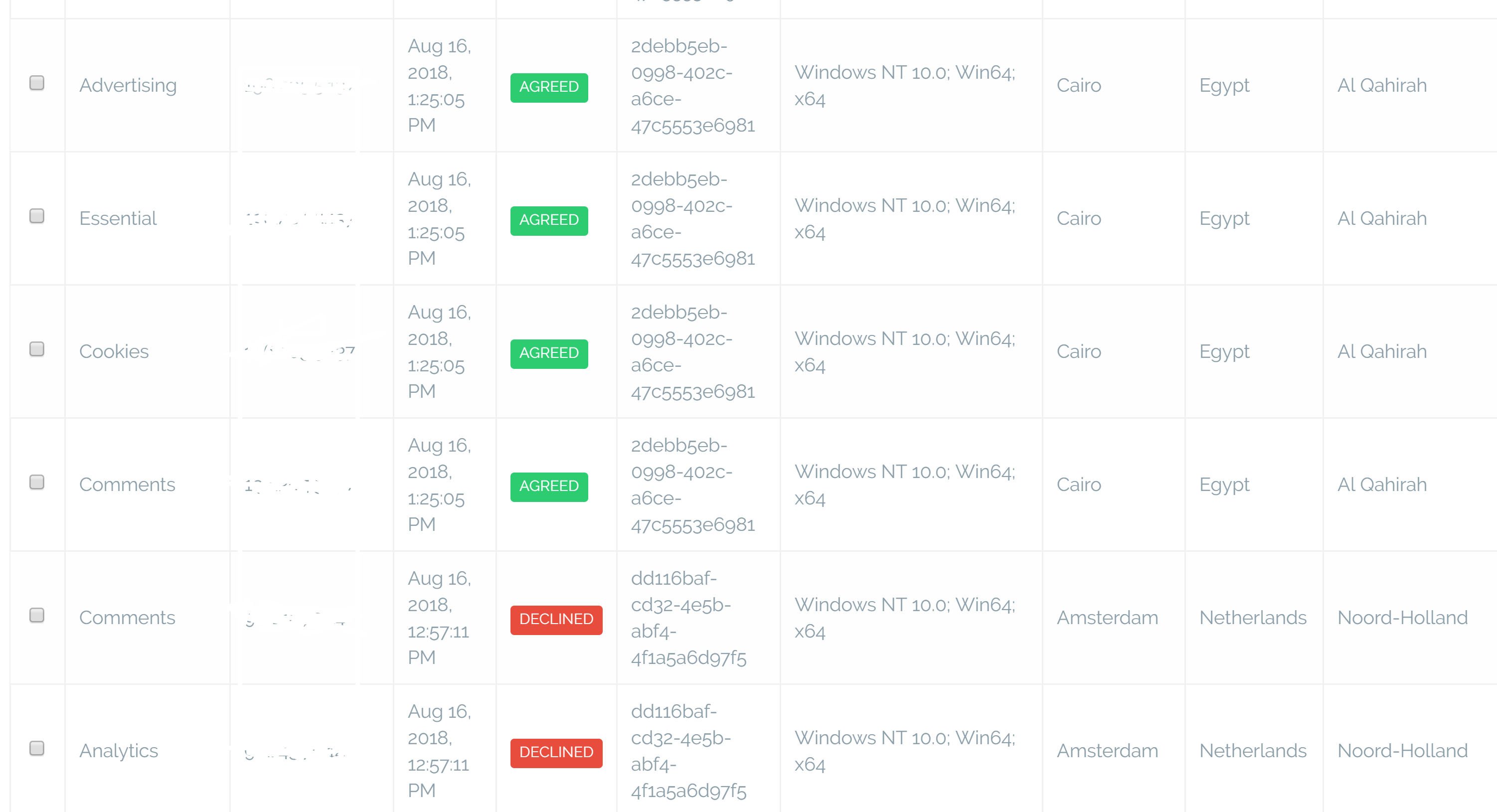 Do I Need To Record All The Cookie Consents?
Yes, every time you get a visitor´s cookie consent, you are also required to record and store it. Cookie banners are the quickest and most informative way to get cookie consent.
The GDPR sets particularly high standards for consent recording. You are required to obtain a positive opt-in for each data collection purpose. You can't rely on pre-ticked boxes and visitor passiveness. Instead, you must display empty boxes for each data collection purpose and ask the user to select those they agree with. If permission is granted you are then allowed to inject cookies into their computers, given that you document and store their consent.
If a user asks to withdraw their consent, you must make the opt-out as easy as the opt-in. Upon request, you have to remove their consent from the records. Good cookie consent management makes this process effortless.
Secure Privacy for Cookie Consent Banner
Secure Privacy provides a cookie consent management tool in order to comply with EU cookie law and fulfill the consent requirements of the GDPR. You can also customize your website banners to your liking and enjoy beautiful cookie banners.
How Can I Record And Store All The Cookies Consents I Get?
With Secure Privacy, this process is fully automated. As soon as the cookie banner shows up and the visitor gives their consent, it is recorded and stored in compliance with privacy laws. As soon as they withdraw consent, it is removed from the records. There is no action required by you.